アリアガレージについて フェラーリについてのお問い合わせは 03-5760-7733
The Ariagarage Quality.
We sell immaculate pre-owned exotics such as Ferrari, Lamborghini, and Porsche. All cars have full maintenance. We only offer our customers superb cars that pass our strict criteria. One can purchase a car with peace of mind here, at Aria Garage. We sell cars that not only look beautiful, but are also of the highest quality. You can trust Aria Garage and the superb quality of our cars.

If you are interested in any of our cars, or have any questions, please contact Keiichi Kawase at Aria Garage.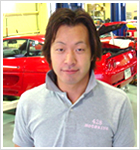 Hi, my name is Keiichi Kawase, and I will assist you in purchasing a car at Aria Garage. I will explain all the information you need to buy a car, such as the car's condition and its history (including maintenance records), and will help you prepare all the documents that are required for purchasing a vehicle. I can also assist you on information about car insurance, car loans, and/or lease programs. In addition, I am here to assist you if your car needs to be repaired, and as your concierge, make life with your car as enjoyable as possible. Please do not hesitate to contact me.

If you cannot reach me at our Aria Garage showroom, please click on the Link button below and fill out an inquiry form. I will reply to you as soon as possible. I am looking forward to receiving your email.
弊社について
店舗情報

【Aria garage 】
7-8-17, Todoroki,
Setagaya-ku, Tokyo, Japan
TEL:03-5760-7733
FAX:03-5760-7735
【Aria factory】
3352, Ikonobe-cho, Tsuduki-ku, Yokohama-shi,
Kanagawa, Japan
TEL:045-933-4300
FAX:045-933-4668
Opening hours
Monday to Saturday
10:00~20:00
Sunday and Holiday
10:00~19:00